Packing and Shipping in Philadelphia, PA
Specialty Shipping Services in Philadelphia, Folcroft, Media, Chesterbrook, Ardmore, Swarthmore
Navis Pack & Ship, serving the Philadelphia area, is an independently owned and operated business in the expanding Navis network. Navis is the premier provider of packing and shipping services for difficult-to-ship items in Philadelphia, Delaware, and Southern New Jersey. The proprietors of this location - Dan & Tammy Cramer - are fully certified under Navis' stringent training and operating requirements for packing, shipping, pickup and delivery of fragile, large, awkward and valuable goods. You can't beat our reputation. Navis Pack & Ship in Philadelphia specializes in shipping art, antiques, furniture, and more.
What our customers are saying:
Reviewed by Michelle Morris
Michelle Morris (Google Review)
FINALLY a shipper you can trust to give you A FAIR price!!! My fellow collectors will know how extremely important this is. These days it is often baffling how often it feels like shippers will take advantage and overcharge. My biggest peeve being they want to double and triple box each item individually, charging outrageous fees. Not here! Not at Navis Pack & Ship of Philadelphia! I recently had a fairly large order with many different sizes of Antique Pottery pieces. Now I know, and many of you likely know, that there IS a way to pack these efficiently and not NOT charge an arm and a leg. That is EXACTLY what NAVIS did! All of my pieces arrived in one box, bubble wrapped and WELL PROTECTED, packed snuggly against each other and then that SINGLE box was SAFELY and SECURELY double boxed and LINED with HIGH QUALITY materials to prevent cave in. Nothing more! I know I seem like I'm going into great detail here, but if any of you have had the same issues I've had, it's that I may order two or three tiny pieces only to have shippers use 6+ boxes for this, ridiculously wasting material and charging me TRIPLE the amount or MORE than what I paid for the actual items, in order to ship it! Sometimes I would rather just re-donate the item back to the seller. Again not here! Not at NAVIS! They charged me literally a fraction of the cost others quoted me at for this shipment! A FRACTION OF THE COST! I'm going to give numbers here! For my shipment of a variety of fragile Antique Pottery Pieces, I had quotes to ship by other shippers at OVER $600!!! (I literally blew up at those shippers!). NAVIS on the other hand, got them to me for UNDER $200!!!! Now that may seem pricey to a layman or a non-collector, but trust me... IT'S NOT! It's A STEAL of a deal and to be honest, if I was the seller shipping these items out, I don't think I could've even shipped them at a price as low as NAVIS did! That's where their EXPERIENCE benefits us! And, my items arrived extremely fast, completely intact and VERY professionally packed. Their professionalism is above and beyond. And their response to any questions you have is almost immediate. Thank you for that, Rebecca and Peter! Thanks to NAVIS, I will be doing most of my buying at auction houses and sellers within their shipping parameters. And that's the other bonus, they will ship from areas far beyond what you would think! Just ask them and they'll be happy to give you, as they did me, a list of their auction houses and antiques dealers that they ship from. I could go on and on, only because I am so grateful that a shipper like NAVIS Pack & Ship of Philadelphia still exists. I had nearly lost hope, and I know this seems dramatic, but I'd almost given up on collecting, because of the inflation of the cost of shipping these days with the OTHER guys... NAVIS is a breath of fresh air! Thank YOU so much!
Reviewed by Clover Shearey
Clovery Shearey (Google Review)
I actually went out of my way to contact NAVIS for their expertise in packing some antique mirrors that I had purchased at an auction. Not only did they pick it up from the auction house, they also packed it so securely in the crate, that I don't think anything could have penetrated the packing. Also, my shipment went to Florida and the third party that they contracted with contacted me in advance of the delivery and again 30 minutes out to insure we would be there to receive it. Very refreshing to receive this level of service.
Reviewed by Robert Healey
Robert Healey (Google Review)
We had a difficult item to ship from the East Coast to Texas. Navis Pack & Ship was recommended and we now understand why. It was an easy experience from beginning to end. Thank you for your expertise!!
Reviewed by Debbie Mola
Debbie Mola (Google Review)
We had a very positive experience with Navis and highly recommend using them for your shipping needs. Peter and Rebecca were very responsive, professional and friendly. The team that showed up at our house was courteous and professional. Our shipment of household items and furniture shipped from Philadelphia to Florida in perfect condition. This was the most stress- free part of our relocation. I cannot thank them enough.
Reviewed by Jennell
From my initial call for a quote to the delivery of my purchase was great! Peter always promptly responded to my requests and replied to my emails. Navis Pack & Ship of Philadelphia took the worry out of everything.
I purchased a very large and heavy piece of furniture that was nearly 2,000 miles from my home. It arrived according to schedule and in great condition.
Reviewed by Marcella Devoto
Marcella Devoto (Google Review)
I got excellent international shipping service from Navis Pack & Ship. They responded promptly and with detailed information to my questions, offered the best price among several other companies I contacted, picked up my packages and shipped it for me. It all arrived in Italy at the time they said it would have. I will definitely use it again.
Reviewed by Prasanth Potluri
Prasanth Potluri (Google Review)
We have been regular customers of Peter and Rebecca since 2015, for all our pickup, packing and arranging international shipping needs. They are most trusted, efficient and honest people in the business which made us repeat loyal customers. If they accept your job, rest assured, you would get your work done in timely and professional manner. They are the epitome of good small business.
Reviewed by Dave Erdman
Dave Erdman (Google Review)
Rebecca and Peter were amazing. We shipped a Japanese cabinet from Philly to Honolulu, and it arrived on a pallet, with unbelievable packing. When we uncovered all the packing the shipment was perfect condition. We really had no idea how to get it across the country and water, and they did it. Our receiver at the Honolulu end had only curb site delivery, so we paid some extra to get it into the house. the cabinet is not big but the packing material made it difficult to move, but we got the pallet and all into our living room. So impressed with the service and handling of our questions. Thank you Navis team, Peter and Rebecca. MAHALO and Aloha! I highly recommend this company.
Items We've Shipped Through Our Warehouse, Handled With Care:
Augusta National Birdhouse - Thomas F. Burke
Glass Table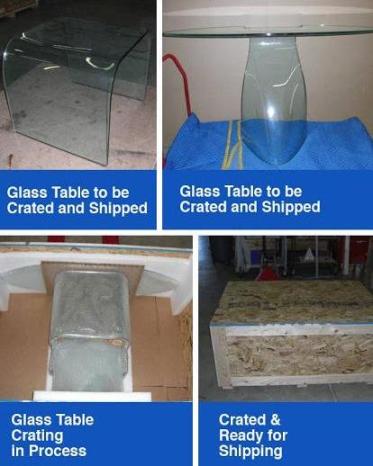 Sculpture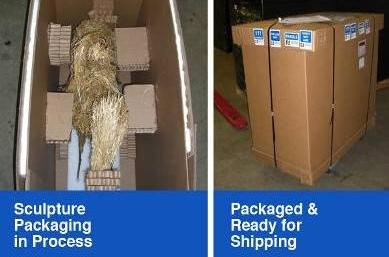 When it comes to choosing the best freight shipping company to pack and ship your fragile, large, awkward or valuable items, Navis Pack & Ship is your best choice. With over 30 years of knowledge and experience as our foundation, Navis Pack & Ship in Philadelphia has been creating individualized, custom solutions for people just like you, one shipment at a time.
We know you want a company which views your valuables with the thought, "We treat your items as if they were our own." We know you want a company which is accessible and responsive to your questions from the time of pick-up to delivery. We know you want a company which has already been tested from tens of thousands of shipments, resulting in satisfied clients across the globe.
That company is Navis Pack & Ship. For years, Navis Pack & Ship of Philadelphia has helped people just like you shipping all kinds of fragile, large, awkward and valuable items, creating the perfect custom packaging and shipping solutions. Navis Pack & Ship. We get it there with care.
Need a quote? Call us at (610) 534-0750, and we'd be happy to listen and provide a custom solution based on your needs. Thank you for giving Navis the opportunity to earn your trust, and your business.
Sincerely,
Dan & Tammy Cramer
Navis Pack & Ship of Philadelphia
701B Ashland Ave
Philadelphia, PA 19032
Customer Reviews
Navis Pack & Ship Philadelphia is rated
Navis Pack & Ship
701B Ashland Ave

Philadelphia, PA 19032

Monday - Friday: 8:00 AM to 5:00 PM

Serving Philadelphia, Folcroft, Media, Chesterbrook, Ardmore, Swarthmore
DOT Number: 1791713; MC Number: 652344
Avoid Damages and Claims
To quote the lowest price, many Internet shipping companies trade profit for quality handling practices resulting in damages to shipment and possible claims battles.
Protecting Your Items Is Our Priority
Trust Navis Pack & Ship to ensure your items are handled properly. We take great care to handle and pack every shipment as if it were our own, no matter the size, shape or value.
Why Choose Navis
Every day, thousands of satisfied customers in the U.S and Canada choose Navis Pack & Ship to handle their packing and shipping needs, especially for fragile, large, awkward and valuable items.
Proven Shipping Methods with Over 30 Years of Experience
This valuable knowledge and experience ensures that every item is handled properly for domestic and international shipments from the U.S. and Canada.