Packing and Shipping in WESTBOROUGH, MA
Specialty Shipping Services in Westborough, Greater Boston, Marlborough & Framingham
Navis Pack & Ship of Westborough/Boston is an independently owned and operated business in the expanding Navis network. Navis is the premiere provider of packing and shipping services for difficult-to-ship items in North America. The proprietor of this location - Robert Resker - is fully certified under Navis' stringent training and operating requirements for packing, shipping, pickup and delivery of fragile, large, awkward and valuable goods. You can't beat our reputation.
Navis in greater Boston builds custom packaging solutions for customers like you every day. Our expertise comes from our brand's extensive experience shipping everything from stereo speakers to ocean containers. We enjoy the satisfaction of meeting our customer's needs. So, what can we quote for you today?
Our Warehouse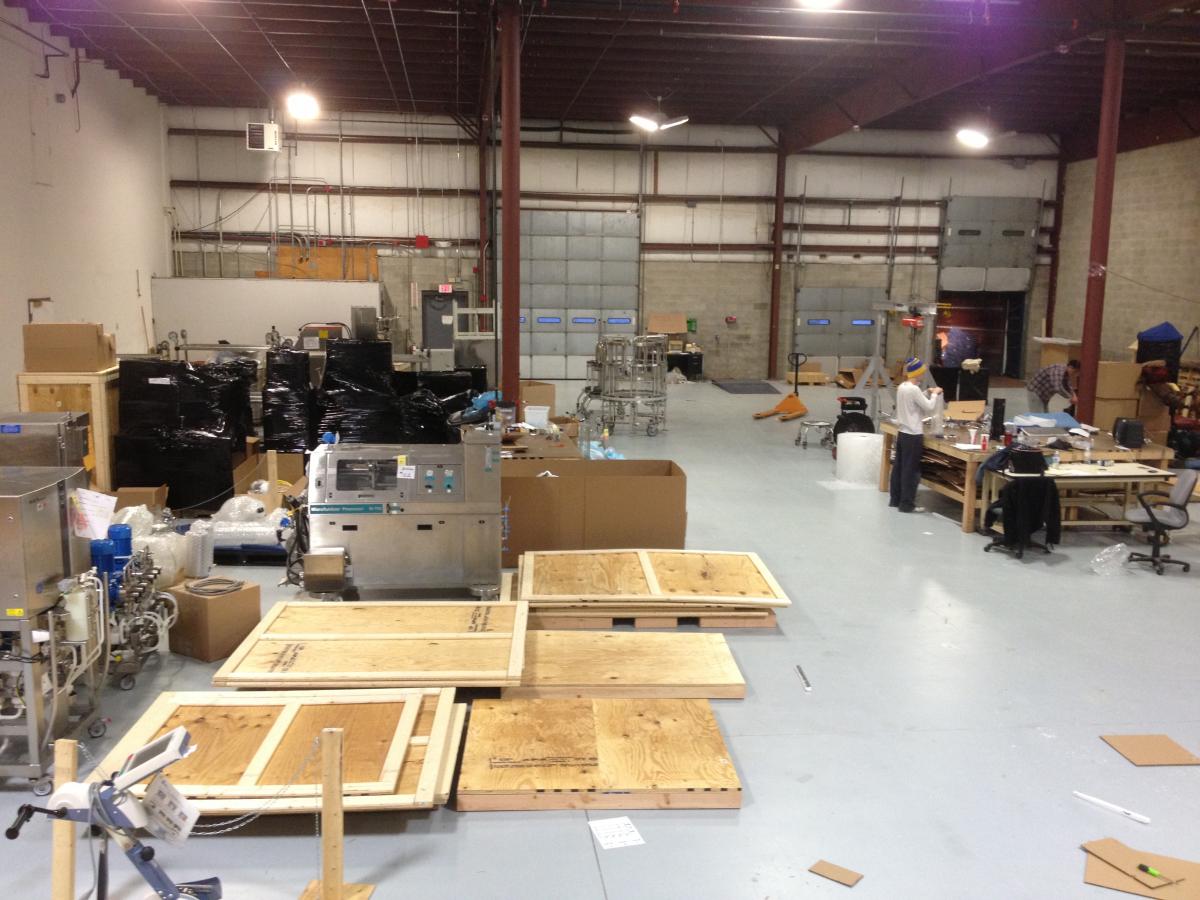 Our full size warehouse dedicated to fulfilling all your shipping needs.
Featured Recent Packing & Shipping Jobs:
Sculpture measures: 30in x 22in x 24in
Navis Pack and Ship of MA was contracted to package and ship a cast acrylic sculpture which was sculpted by world renowned sculptor Bruce Beasley (www.brucebeasley.com). Mr. Beasley has produced many fine works for individuals, institutions and grand events such as the Los Angeles Olympic Games. The piece required a multitude of materials and design skills. Details included a wood crate, cloth wrapping and high performance foam cushioning to insure safe transit through the shipping environment. Navis worked with the sculptor to insure all design facets met the strict requirements required. The recipient in Dubai was thrilled to have his sculpture arrive safely.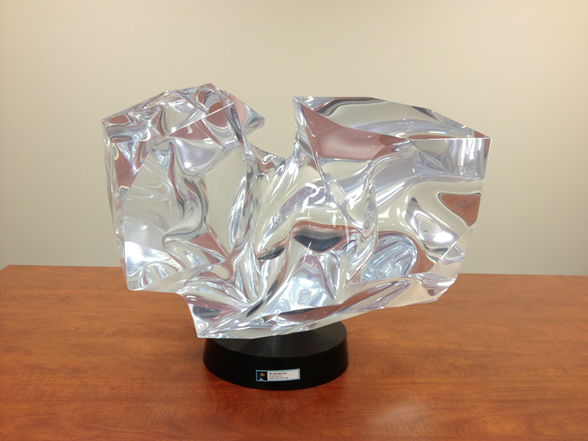 Custom Packing for Boston Scientific
Below: For this state of the art equipment, shipped by Boston Scientific, we spend a third of the project developing and designing the packaging. Its unique and awkward shape, design, and sensitivity, proved challenging, but not impossible for the Navis team.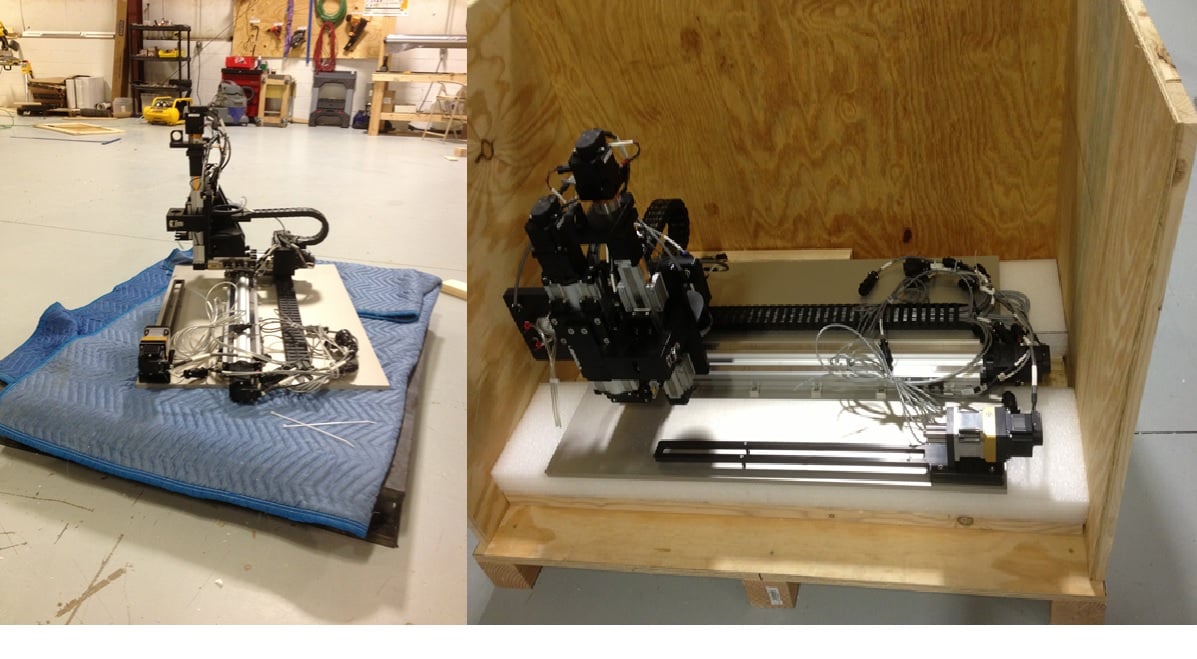 Crating for Expensive Mirror
Below: This $75,000 mirror was extremely fragile. Due to its delicate edges, we designed this crate to not only protect the glass from breakage, but also keep the edges from touching anything! Using our expertise we were able to ensure this mirror made it safely to its new home in DC.
What a recent customer had to say about the service at this location:
Dear Bob:

I want to put into writing what I told you today on the phone. The two young men who picked up my desk, Nick LaCroix and Zach Leofanti, did a wonderful job. They called to tell me they were stuck in traffic so that I knew what time they were going to arrive. Once they did arrive, they were respectful and courteous. They took their time and ensured they were very careful when moving the desk. I watched them wrap my desk in a blanket, and it gave me confidence that they cared about ensuring my desk arrived safely at its destination. I was quite pleased with the service I received, and would definitely recommend Navis. In fact, Nick and Zach exceeded my expectations.

Thank you for all your help. I would be happy to serve as a reference for your services.
Motorcycle Shipping at Navis Pack & Ship in Boston
Here's a recent packing job for a unique motorcycle containing very special aluminum paint. The packing pros at this Navis location not only secured the bike correctly for shipping but also took extra care in padding the bike so the packing materials wouldn't adversely affect the value of the special paint.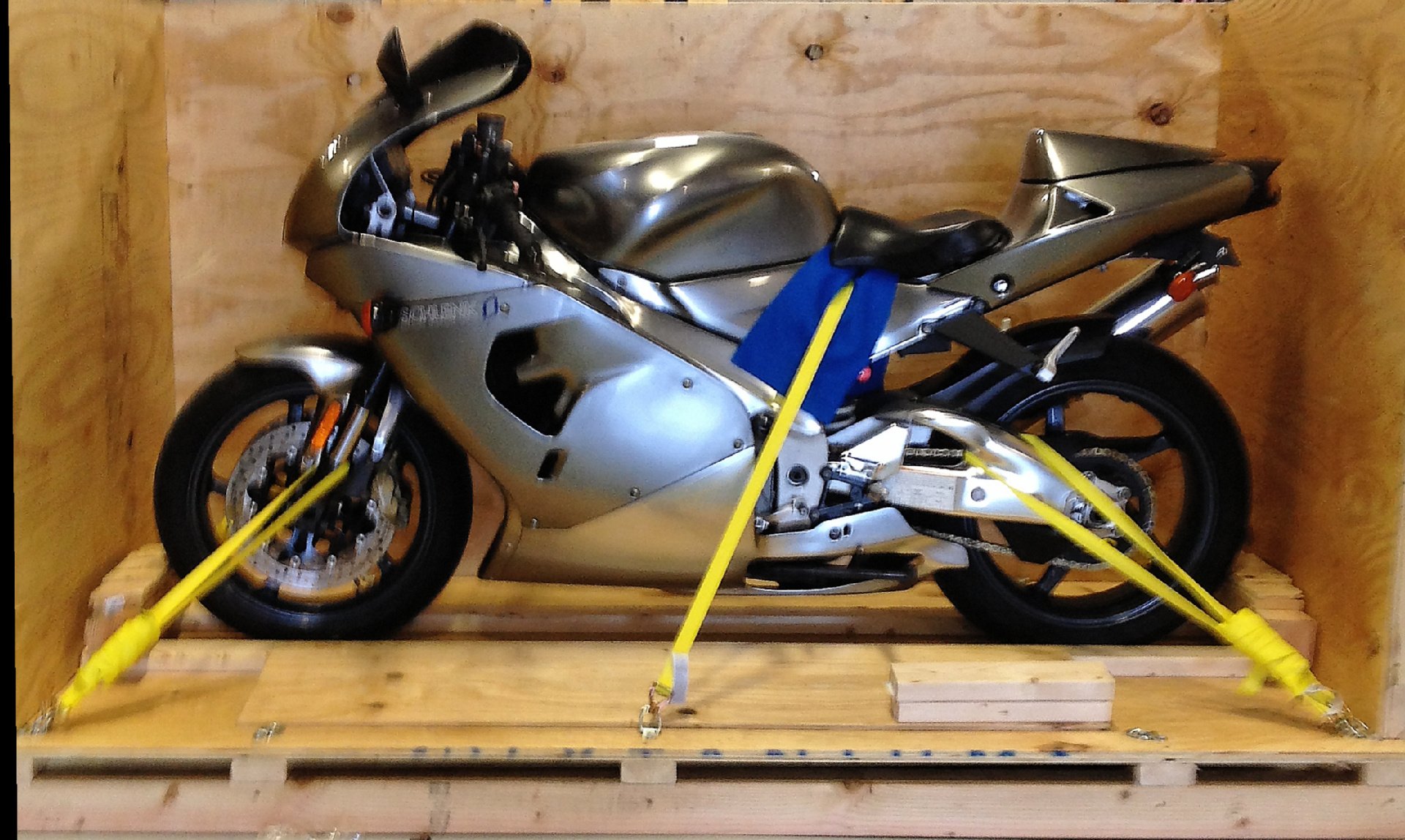 When it comes to choosing the best freight shipping company to pack and ship your fragile, large, awkward or valuable items, Navis Pack & Ship is your best choice. With over 30 years of knowledge and experience as our foundation, Navis Pack & Ship in WESTBOROUGH has been creating individualized, custom solutions for people just like you, one shipment at a time.
We know you want a company which views your valuables with the thought, "We treat your items as if they were our own." We know you want a company which is accessible and responsive to your questions from the time of pick-up to delivery. We know you want a company which has already been tested from tens of thousands of shipments, resulting in satisfied clients across the globe.
That company is Navis Pack & Ship. For years, Navis Pack & Ship of Westborough has helped people just like you shipping all kinds of fragile, large, awkward and valuable items, creating the perfect custom packaging and shipping solutions. Navis Pack & Ship. We get it there with care.
Need a quote? Call us at (508) 870-3111, and we'd be happy to listen and provide a custom solution based on your needs. Thank you for giving Navis the opportunity to earn your trust, and your business.
Sincerely,

Robert Resker
Navis Pack & Ship of Westborough
111 Milk Street
WESTBOROUGH, MA 01581-1211
Meet the Staff Who Will Serve You
Welcome to Navis Pack & Ship of Massachusetts. We are a full service packaging and shipping operation which is centrally located in Westborough MA. From this location our trucks have easy access to all major roadways serving New England cities in the areas of Boston, Worcester and Providence. Our spacious 10,000 square foot building is well equipped, clean, and operates with all necessary best practices. Part of what sets us apart from others is industry knowledge. With over 30 years of packaging and shipping experience we know how to think "inside the box". We welcome the opportunity to fulfill your requirements no matter the size or shape. Bring on your most challenging project!
Sincerely,
Robert C. Resker
President and General Manager


Navis Fills the Void Created by The Packaging Store Leaving Boston
After 27 years in Needham, MA, the Handle With Care Packaging Store location is no longer in business. As part of the franchise family of Annex Brands, Inc., the Packaging Store, formerly located on 33 Highland Ave in Needham, is now served by Navis Pack & Ship of Greater Boston, located in Westborough. If you need student moving service or summer student storage, we're ready for Harvard and Wellesley students. Our 10,000 sq ft warehouse provides plenty of storage for your valuables over the summer break. Or, if you have a need for custom packing those antiques, fine art, furniture and anything else fragile, awkward, valuable or large, we've got the experience and know-how to safely get your items from here to there. What can we help you with today? Give us a call at the number at the top of the screen, or complete the quote request form at the right, whichever is convenient for you. We look forward to showing you the Navis difference.
Customer Reviews
Navis Pack & Ship Westborough is rated
Navis Pack & Ship
111 Milk Street

WESTBOROUGH, MA 01581-1211

Mon-Fri 9:00am - 5:00pm

Serving Westborough, Greater Boston, Marlborough & Framingham
Avoid Damages and Claims
To quote the lowest price, many Internet shipping companies trade profit for quality handling practices resulting in damages to shipment and possible claims battles.
Protecting Your Items Is Our Priority
Trust Navis Pack & Ship to ensure your items are handled properly. We take great care to handle and pack every shipment as if it were our own, no matter the size, shape or value.
Why Choose Navis
Every day, thousands of satisfied customers in the U.S and Canada choose Navis Pack & Ship to handle their packing and shipping needs, especially for fragile, large, awkward and valuable items.
Proven Shipping Methods with Over 30 Years of Experience
This valuable knowledge and experience ensures that every item is handled properly for domestic and international shipments from the U.S. and Canada.