Specialty Shipping Services
in Fort Lauderdale & South Florida
Navis Pack & Ship of Fort Lauderdale is an independently owned and operated business in the expanding Navis network. Navis is the premiere provider of packing and shipping services for difficult-to-ship items in North America. The proprietors of this location - Andy & Wendy Ahrens - are fully certified under Navis' stringent training and operating requirements for packing, shipping, pickup and delivery of fragile, large, awkward and valuable goods. You can't beat our reputation.
Locations:
Fort Myers: (239) 689-5512
Naples: (239) 261-9103
Miami: (786) 369-1966
West Palm Beach: (561) 768-7978
Sarasota: (941) 208-0508
Fort Lauderdale: (754) 484-3700
What our customers are saying:
Reviewed by Craig Bowman
Craig Bowman (Google Review)
Use Navis Pack & Ship Nationwide for all my customers professional crating and packing needs. Very Friendly & Professional Here at the FT Myers, FL office and I highly recommend Andy & Wendy to all. Look forward in working with them at our next years event Art Basel, Miami Spectrum, Red Dot Miami. Thank You Again Andy & Wendy.
Reviewed by Frank Stucke
Frank Stucke (Google Review)
I have shipped valuable art work before with another shipper. Thought they did a good job until I experience the work that Navis did with our most recent painting. NO comparison Navis did and Unbelievable job. Only way to ship anything with value.
Reviewed by Kris Sasaki
Kris Sasaki (Google Review)
Service and communication was phenomenal. They called me to let me know my package arrived before I even new the package was in my office. I have never had such an amazing experience with any shipping company. I can not recommend them enough… and I never write reviews.
Reviewed by Amazing Things
Amazing Things (Google Review)
TRULY AMAZING experience! We had a challenging (and very fragile) large collectible to ship across the country. Navis in Fort Myers expertly packed, shipped, tracked, coordinated and communicated with WORLD CLASS service. They even offered the best pricing around. A true joy to deal with, and we look forward to using them again soon!
Reviewed by Shawna Gannaway
Shawna Gannaway (Google Review)
From the very first phone call to the pick-up/drop off Navis was professional and courteous. Wendy was so knowledgeable and friendly, Andy and his crew were delightful and took their time moving an expensive piece of artwork. I highly recommend Navis Pack & Ship.
Reviewed by Kegan Stewart
Kegan Stewart (Google Review)
Absolutely the best value including follow-up correspondence with freight company virtually removing the hassle often experienced in the pick-up and delivery process. Customer Service glistens off the 5th star.
Reviewed by Churchill Galleries
Exceptional service. This firm has handled valuable product for us on a regular basis; as well as emergency deliveries to designers and architects to meet installation deadlines. Professional and careful. Highly recommend.
Our Delivery Van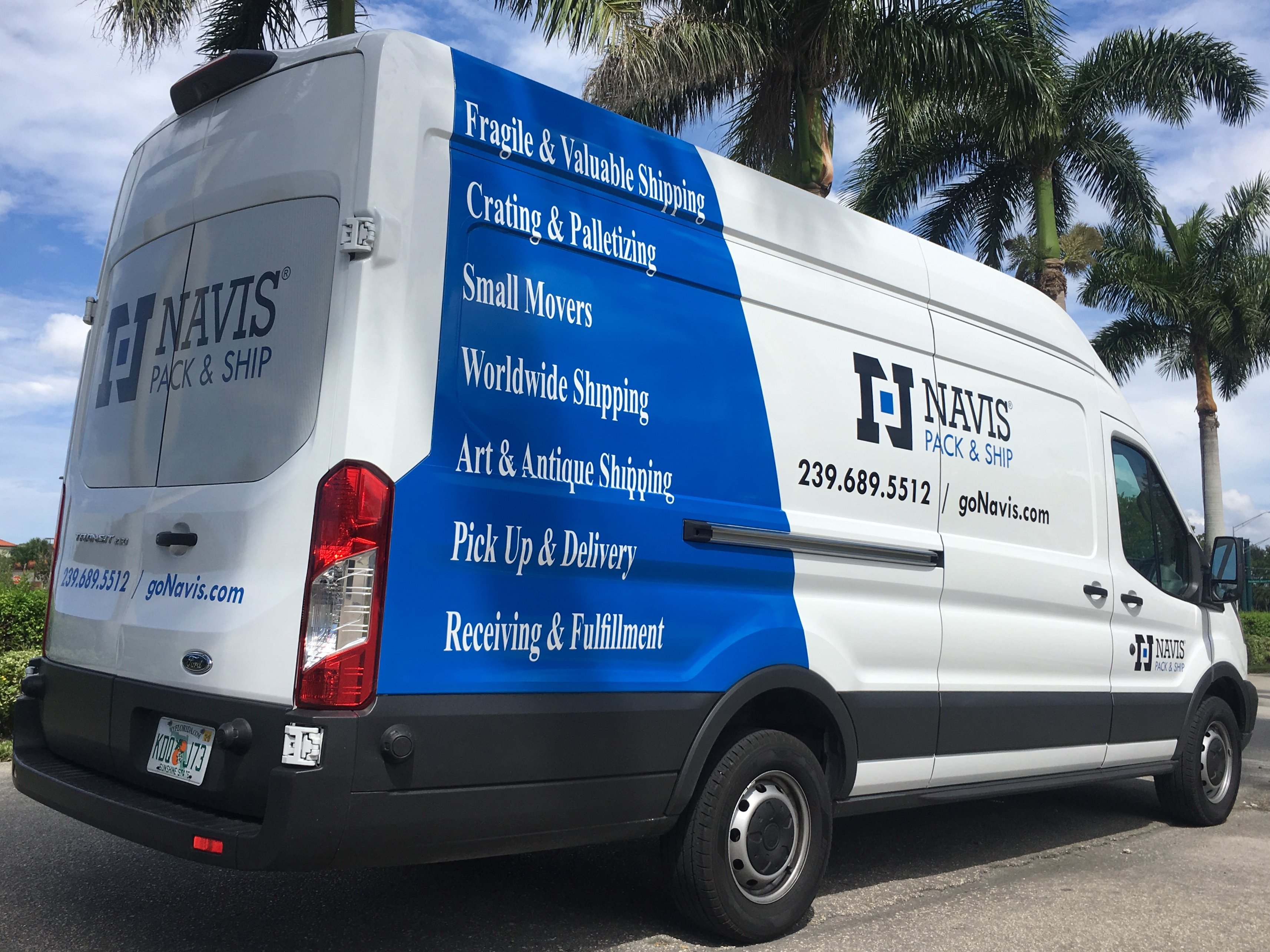 Our Offices
Our Warehouse
When it comes to choosing the best freight shipping company to pack and ship your fragile, large, awkward or valuable items, Navis Pack & Ship is your best choice. With over 30 years of knowledge and experience as our foundation, Navis Pack & Ship in Fort Lauderdale has been creating individualized, custom solutions for people just like you, one shipment at a time.
We know you want a company which views your valuables with the thought, "We treat your items as if they were our own." We know you want a company which is accessible and responsive to your questions from the time of pick-up to delivery. We know you want a company which has already been tested from tens of thousands of shipments, resulting in satisfied clients across the globe.
That company is Navis Pack & Ship. For years, Navis Pack & Ship of Fort Lauderdale & South Florida has helped people just like you shipping all kinds of fragile, large, awkward and valuable items, creating the perfect custom packaging and shipping solutions. Navis Pack & Ship. We get it there with care.
Need a quote? Call us at 754-484-3700, and we'd be happy to listen and provide a custom solution based on your needs. Thank you for giving Navis the opportunity to earn your trust, and your business.
Sincerely,
Andy Ahrens
Navis Pack & Ship of Fort Lauderdale & South Florida
501 E Olas Blvd
Fort Lauderdale, FL 33301
Navis Pack & Ship
501 E Olas Blvd

Fort Lauderdale, FL 33301

Monday - Friday: 9:00 AM - 5:00 PM

Serving Fort Lauderdale & South Florida
Avoid Damages and Claims
To quote the lowest price, many Internet shipping companies trade profit for quality handling practices resulting in damages to shipment and possible claims battles.
Protecting Your Items Is Our Priority
Trust Navis Pack & Ship to ensure your items are handled properly. We take great care to handle and pack every shipment as if it were our own, no matter the size, shape or value.
Why Choose Navis
Every day, thousands of satisfied customers in the U.S and Canada choose Navis Pack & Ship to handle their packing and shipping needs, especially for fragile, large, awkward and valuable items.
Proven Shipping Methods with Over 30 Years of Experience
This valuable knowledge and experience ensures that every item is handled properly for domestic and international shipments from the U.S. and Canada.