Reviews for Navis Pack & Ship

Customer Reviews
Navis Pack & Ship has earned a reputation for excellence for our packing, palletizing, crating, boxing and shipping services.
What People Are Saying About Navis Nationwide
I always go to Alan Moore for my special shipping needs. Prompt, I can always count on him.
Reviewed by jraya on Mar 25, 2015
Very good customer service and always doing what they can to help expedite urgent orders.
They were very helpful. My item was picked up from my place, professionally prepared for shipping, then stored before being picked up from their location.
Everyone was terrific - from start to finish. We had a change mid-shipment and it was handled perfectly. Couldn't be happier with our service.
Reviewed by on Dec 24, 2014
I worked with Marc Oxford to make sure that a delicate package arrived at my home in time for the holidays.  It was a difficult proposition -- he had to get the piece from an auction house, pack it carefully and securely and get it out the next day in the middle of the busy holiday season.  He did a superb job. He was endlessly patient, kind and informative in answering my questions.  He worked hard to get things straightened out with the auction house.  He made sure it was packed correctly and shipped quickly.  The package arrived safe and sound right on time.  Working with Marc and Navis really was an excellent experience.
Norman J. Cohen
                                  ****************
Reviewed by on Oct 30, 2014
Good morning Melissa-

I received a call from Steve Lehman last week. The crate arrived at his brother's home and the model was INTACT!!!!!!!!!!!!!! Not a piece broke off , and not in kit form.
John Lehman, Steve's brother couldn't believe what he waslooking at and went absolutely head over heels about the model. In a sentence, he loved it!!
Thank you guys for a wonderful shipping experience! I will recommend you to anyone with delicate item to ship! You set a very high standard with me and my maritime art and I will use you again when the time comes to ship another model! Thank you so very much for everything!
Yours historically through the art of scale ship modeling-

Frank Ryczek, Jr.
Maritime Artworks Limited
Jacksonville, Florida
Reviewed by on Jun 26, 2014
Hi Rebecca,
Thanks for the note, and yes everything has arrived and all is good.
As for feedback on your services, well, all I can say is that everything went very smoothly; the guys who collected my stuff were great and very helpful, and the guy at this end brought it all indoors and was great as well.
One aspect of your service which does need addressing is your packing of my speakers, my paintings and my three instruments.
Which was "Awesome"
The boxes you made to size, the interior packing and construction was excellent, and the V-shaped corner protectors you affixed to some other boxes was also much appreciated.
All in all, a totally painless and stress-free move.
11 out of 10 :) Thanks Rebecca
Cheers,
Mike
Reviewed by on Jun 11, 2014
Hello Ray:
I want to take this opportunity to thank you for the outstanding job and service your company provided in packing and shipping to me, in Los Angeles, the contents of my parents home in Toronto. I have just completed the task of unpacking all of the shipped goods and I marvel at the meticulous care you took into packing each and every item. The expensive art work and rare clocks were superbly crated/protected and  and even some of my less valuable household goods received their own boxes with multiple layers of protection.
Besides the packaging itself I also want to thank  you again for making the international component of this shipment seem effortless. Your knowledge of the customs and clearance aspect of this shipment made for a smooth importation.
Please use my name as a reference for any future prospects/customers who, like myself, found you online but need assurance of your reliability, professionalism and expertise.
Thanks,
Mark
Reviewed by on Jan 20, 2014
Ray Friedman took very good care of us and went above and beyond to assure that we received our item properly. I will definitely recommend your company to others in need of shipping. I cannot thank you enough! 
Reviewed by on Nov 5, 2013
"Everything looks great, and Navis is an awesome company....the best white-glove delivery we have had so far!"
Reviewed by on Aug 5, 2013
Hi Gary (Feller, of Navis Pack & Ship of Bridgeport, CT)
Just a note to say that the painting arrived with us here in the UK on Friday very well packed and in excellent shape.  Thank you very much for your professional services.
Regards,
Barbara
Reviewed by on Jul 24, 2013
George, (Mackertich of Navis MD1075 in Baltimore area)
Just a quick note to say we have unpacked our last box -- the very large artwork box -- and everything arrived in perfect condition. Our daughter is thrilled with her table and chairs and know that was not an easy delivery. We are so impressed with the packing and your service! 
Kathy L
                                  ****************
Reviewed by on Jun 5, 2013
The (stained glass) windows arrived in perfect condition, and so did the Indian blankets.  The best packing job I've ever seen, even after 35 years in the moving business.  Thank you everyone.
Bob FlinnPortland, OR
                                  ****************
Reviewed by on May 22, 2013
Tracy,

Mel and I would like to personally thank you and your company for the treasure you delivered to our home from Virginia to Colorado. The two men you sent to unpack the cabinet and bring it into the house were fantastic. They were  extremely careful with the 100-year-old cabinet and were as careful setting it up in the display room my wife had set up for the new addition.

The movement of this antique from Virginia to Colorado is a loss for Virginia but, a beautiful addition to our home and Colorado. The most important thing is my wife is absolutely excited for the cabinet's safe arrival. She was sure some of the antique glass would not survive the cross country trip.

Please extend our sincere thanks to the delivery and unpacking crew here and the packing crew at your end. It has been a wonderful experience working with you. Thank you for the  wonderful experience.
Louie and Melanie A.
                                  ****************
Reviewed by on May 16, 2013
I just wanted to drop you a note and let you know that the shipment I sent to Walter (last name removed) in Fresno, CA was received.  Walter called me last night and told me the following:
"although it was 100 degrees in Fresno, I put on dad's leather jacket, his ring and uncle Chuck's hat and sat on that pallet in the garage looking through the scrapbook you made of the Christmas you and dad spent with us.  I just sat there and cried and cried.  I had to call mom to come over to give me some moral support!"
Nathan, I just wanted you to know what part you and your team play in people's lives.  As you know, most of the items were not of so much monetary value but so much more.  Walter also told me that the packing job, especially on the planes, was outstanding.  He was impressed with the quality of the job.
I hope maybe this message does a little to brighten your day.  Thank you and your team for your professional and outstanding work and brightening the lives of others.
Best regards,
Bonnie
Reviewed by on Apr 1, 2013
Gary,
What a pleasure to do business with people who do what they say they will do when they say they will do it.  My furniture was delivered in Kentucky on Thursday in perfect condition.  I highly recommend Navis and appreciate the care given to my shipment.
Thank you, Liz Birkenmeier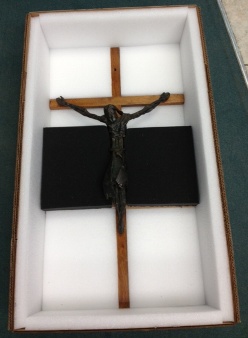 Reviewed by on Mar 25, 2013
(Re: Navis Pack & Ship in Toronto, Ontario)

Dear Ray:
The specialized box you prepared for us made its inaugural run last December.  We are truly grateful for the work you did for us...What a pleasure it is to have the security and ease of transport for our large crucifix.  Using the case you made to custom fit and safely carry the large crucifix to different parts of the city has been a Godsend.

Shipping a crucifix was awkward and challenging, and we worried about possible damage.  We now have complete peace of mind that the crucifix will arrive at its destination intact and be returned to us in the same condition.

It was equally a pleasure working with you as you understood what we were looking for and delivered more than what you promised.

With thanks and appreciation,
Paul J CrawfordManger, Supply and ServicesArchdiocese of TorontoCatholic Pastoral Centre
                                  ****************
Reviewed by on Mar 25, 2013
(re: Navis Pack & Ship in Joliet/Chicago, IL)
Subject: Re: Shipment for the Chicagoland Antique Vending Show
Good morning, George, it's Steve in Colorado… I finally got the shipment. Thank you very much for all your help and the excellent job in packing! Everything arrived perfect! Have a great holiday and hopefully will see you in Chicago again sometime.
Reviewed by on Mar 25, 2013
(Re: Navis Pack & Ship, Phoenix, AZ
Good morning, 
Vance's household items were delivered yesterday, and everything appears to be in perfect condition, and he is extremely happy to have all his possessions with him again. 

You did an outstanding packaging job, one my father would be proud of (he uses more bubble wrap than anyone I've ever known, and takes great pleasure in my difficulty in getting things unwrapped!), and I wanted to thank you for the excellent service.

We will most certainly use your services again, should we need to ship more household goods or other large items.  It was a pleasure doing business with you!

Thanks,
Angela C
Reviewed by on Mar 25, 2013
Hello, George - (Navis Pack & Ship in Halethorpe/Baltimore, MD)
Just a quick follow up note to let you know that the roll top desk arrived at the YRC terminal in Wheeling on Monday morning.  I picked it up yesterday afternoon, unpacked it today, and am happy to report that all is in good order as far as I can see.  Your crew did such a superb job of wrapping, packing, and boxing the desk that I think it would have been virtually impossible for it to have gotten damaged in transit.  That said, I will not hesitate to use or recommend the services of Navis Pack & Ship in the future.
Thanks again to you and your crew for providing such great service!!  
Kind regards, 
Bob
Reviewed by on Mar 25, 2013
Hi John and Nicole,  (Navis Pack & Ship in Pleasanton, CA)
I received your shipment yesterday and I just wanted to say I was very impressed by how well the pallets were packed. I didn't know some of the things you used even existed! Cushion pads, cardboard separators, bubble wrap covered with clear plastic then black plastic over everything to protect it. Great job! 
Reviewed by on Feb 7, 2013
I want to let you know that you have an extraordinary employee in Portland Oregon.
Kiyomi Shimada helped us ship a piece of furniture that has been in our family for more than 70 years and has huge emotional value.  She was very professional, pleasant and a real joy to work with.
It was an unusually positive experience.  Thank you.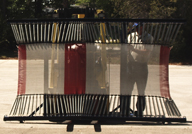 ,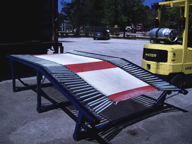 Reviewed by on Oct 13, 2011
Melissa - I was an automotive engineering manager at a fortune 200 company for 16 years. I worked extensively with our logistics department. I began Troy Gymnastics 5 years ago. 3 years ago, I left engineering, and my gym became the largest gymnastics facility in Michigan. A couple of months ago, I wanted to ship a trampoline from FL to my facility. I called my auto contacts. A customer recommended you guys. You blew them out of the water price-wise, and your service was excellent. I am in the service industry and appreciate it very much when it is great. I will be calling again.
Toby BuechnerOwnerTroy Gymnastics, IncTroy, MI
                                  ****************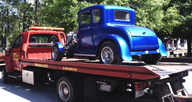 ,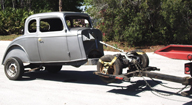 Reviewed by on Oct 13, 2011
Hello JoAnn,
Thank you for the information and photos. I am very pleased with the way you took care of things and we are looking forward to receiving the vehicles in Bremerhaven. I will gladly come back to do business with you again and also have no problems with letting other people know that you do good work.
Thanks again and I will let you know how things turn out.
Heinz Powell
                                  ****************
Customer Reviews
Navis Pack & Ship has earned a reputation for excellence for our packing, palletizing, crating, boxing and shipping services.