Reviews for Navis Pack & Ship

Customer Reviews
Navis Pack & Ship is rated
Navis Pack & Ship has earned a reputation for excellence for our packing, palletizing, crating, boxing and shipping services.
What People Are Saying About Navis Nationwide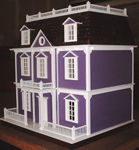 Reviewed by on May 16, 2011
Hi Jo Ann,
I wanted to let you know that our dollhouse arrived in Massachusetts in perfect condition!
I wanted to thank you and your team for your excellent service and responsiveness. As you know, that dollhouse took me many hours to build and was extremely delicate. I appreciated the care and attention your team gave to thinking through how to design and build the crate and the bracing to keep it secure.
I also appreciated the way you jumped right in when there was a dispute with the local shipper regarding whether or not the hydraulic lift was included in the service. As soon as you were made aware of the problem you immediately contacted the local shipper and resolved it.
Your prices were very fair, your packing and shipping service was excellent and the human service to guide our precious cargo from end to end was extraordinary.
The next time we need to ship any goods we will call you immediately and I would be pleased to refer you and your company to others.
H ResnicPonte Verda Beach, FL
                                  ****************
Reviewed by on May 9, 2011
Jo Ann,

Just to let you know that we received our shipment yesterday as scheduled. 
I cannot thank you enough for the ease of working with you and your company.  Working with someone that we simply "found on the internet" made us a little apprehensive, but your ongoing communications and professional manner of doing business gave us a feeling of comfort.  You took care of everything just as promised.  We will definitely recommend you to others who have similar packing and shipping needs in your area. 
Thanks again.  May you, too, have a wonderfully blessed day!
Reviewed by on Oct 29, 2010
Peter, breakfront cabinet arrived safely this AM.  Fabulous packing job!  I am a museum conservator by trade, for over 30 years now and you surely have ex-musuem staff on board.  It took me hours to unravel, but also have enough clean packing materials for my paintings and works of art until I retire.  Your packers know their stuff.  I would not hesitate to recommend Navis to any of my dealer and collector clients.  Will also email Stenella Antiques in PA with similar praise.  Thanks also for guiding me through the complicated world of cross border shipping.
 
Reviewed by on Oct 28, 2010
Thanks for the outstanding job you and Jacksonville Navis Pack and Ship did in moving two pieces of furniture from our home in Florida to relatives in Texas.  We appreciate the fair price you gave us (which you held to throughout), that you showed up on time to pick up the furniture and delivered it on the promised date to our relatives' home.  The men who handled the furniture at both ends were extraordinarily courteous and professional.  The furniture arrived without a scratch and, as promised, they put it exactly where our relatives wanted it (second floor no problem).  The next time we have a need for moving a few items or many we will go to Navis without hesitation!
Reviewed by on Oct 28, 2010
Once again, you and you're company came through with flying colors.  You are prompt, so professional and all is packed up "ship shape" as my dad used to say.
Reviewed by on Oct 28, 2010
Elvis photo arrived on time as promised, packaged beautifully, and in pristine condition.  Thanks for the pleasant experience.
 
Reviewed by on Oct 28, 2010
Just wanted to thank you for making the transport of the furniture arrangements so easy and professional your guys were really helpful to my client in getting the piece in the house. I will contact you again in the future if I find anything else up there thanks again you were great!
Reviewed by on Oct 28, 2010
I wanted to send a follow-up of my own to convey my compliments and astonishment at the intense level of care used to pack my shipment.  Each item was carefully wrapped in a 2-ply paper and then secured in its own custom-fit box.  I was concerned when I couldn't find my box cutter.  What a relief to find that the boxes would fall apart on their own when a few staples were removed with a claw hammer.  "Well-wrapped" is hereby nominated for understatement of the year.
 
Reviewed by on Oct 28, 2010
I just finished unpacking and was thrilled with the results! Valuable art was in perfect condition as was the 55" TV. I have been singing you praises to everyone. Thank you so much!
 
Reviewed by on Oct 28, 2010
Thank you so much for the heads up phone call regarding the shipping of my art. I received the package yesterday.  The paintings were expertly packaged and I want to thank you for that and your assistance.  I will definitely use your company in the future as well as recommend you to others.
 
Reviewed by on Aug 27, 2010
We recently commissioned a painting entitled "Christina" from the famous artist Peter O'Neill. The painting was featured on your Facebook site recently, with our consent. We considered driving from Ft. Lauderdale to St. Augustine to pick up this beautiful painting so that it would not get damaged, but the studio recommended Navis Pack & Ship as a trusted shipper for fragile fine art.  Comparing the price to have it shipped and that of driving, hotel, gasoline, and meals and the price was much the same.  So we took the easy method and shipped it. It arrived without a scratch, dent or flaw of any kind. When we opened it we found that the painting was first wrapped in a soft but sturdy padded paper, than wrapped in bubble wrap and finally placed in a solid cardboard box that matched the painting perfectly to avoid movement within the box. Great job Navis.  Oh by the way, the staff that we dealt with was super!
Christina
Reviewed by on Aug 5, 2010
Alan's team had done a very professional job when I had to move from Lake Forest, CA to Eagan, MN. His team came on time. These people were very courteous. The packing was excellently done and the shipped goods arrived on time. I highly recommend Navis Pack Ship at Laguna Hills, CA for anybody who care to ship their goods safely and economically!!
Reviewed by on Aug 5, 2010
Peter & Staff,
Thank you for an awesome job. Not even the dust was disturbed on the furniture! If you ever need a testimonial just call, you guys went well beyond what I expected. Well worth the extra cost. I must add the Yellow Roadway driver was also impressed! He said he has been seeing more your company packing & shipping and has never had a problem because it is so well done.
Thank you so much
Jane Zulian
Reviewed by on Aug 2, 2010
I just unpacked the last of my grandmother's furniture that you packed up and shipped out to me well over a year ago (it was stored in the garage while my house was under construction).  Thank you for doing such a fabulous job.  Each piece was wrapped with such care and everything arrived in perfect condition.  I was blown away by your efforts and I am so appreciative that Navis Pack and Ship played such a large role in preserving my grandmother's legacy.  I would recommend your company to anyone; if you ever need testimony from a satisfied client, please let me know because I cannot sing your praises enough.  And of course, feel free to use this email as feedback for your website.  I hope you are having a great summer and thank you again for doing your job so well. 
Reviewed by on Jul 22, 2010
Dearest Kathy and Belinda;
 I called because I didn't realize I had your email address.  Yes, the desk arrived in perfect condition, you did an amazing packing job.  I do love it.  
Thank you and I will be shipping another chair with you that I have the next time I am in Sacramento.
 My warmest aloha,
Sabra
Reviewed by on Jul 22, 2010
Hi Oleg and Ken,
 I picked up my plotter last night at the shipping terminal and experienced no problems. I was really impressed with the packaging. And the machine itself is pristine. It is hooked up to my computer now and works perfectly!
Thank you both for all your help. I really appreciate it!!
 Best regards,
Tanya Cooper
Reviewed by on Jul 22, 2010
Jeff,
Thanks for getting the picture and table to my brother in Phoenix.  He said that both pieces were packed so well, that they could have fallen off a building without damaging either. 
Thanks again.  I'll keep you in mind if I need your services again. 
Charlie 
Reviewed by on Jul 22, 2010
I want to thank you and the Navis Team in Jacksonville for the great professional packing & shipping service you extended to me during my recent purchase of fine art from the St. Augustine / Jacksonville area. The items were packed with great care and in packaging that protected the contents very well. I was always kept up to date from your office in Jacksonville on the packing, the shipping, and the delivery of my art. I also greatly appreciated the photos which you sent me of the items before they were packed and immediately after they were packed. It made me feel as if I were your most important customer. My art arrived in great condition and on a timely basis.
Thanks again for making this experience as pleasant as the experience of enjoying the art itself. I will be sure to use Navis again when I have such packing & shipping needs and will always feel confident about recommending your services to others. 
Reviewed by on Jul 22, 2010
Thanks JoAnn for everything.  You all were a great help.  I appreciate your kindness, your patience, your professionalism. Thank you!  Hopefully, we can do business again!  
-Miriam
Reviewed by on Jul 13, 2010
You couldn't have been more considerate on both ends of the journey, conveying a much needed sense of competence and confidence--"all will be taken care of."  I appreciated your updates.  Sending/attending on artworks is so very different from shipments of other kinds.  Feels a bit like sending and receiving a baby--your care in packing, what I heard of your conversations with Tania, and your communication with me not only made me know the "baby" was in good hands but let me shift from anxiety to suspenseful anticipation!  Thank you. 
Della Pollock
Reviewed by on Jul 13, 2010
I wanted to take a few minutes to tell you how pleased I was with the service you provided in packing & shipping my 3 pieces of antique oriental furniture. They arrived at the freight station in pristine condition. 
Your packing job was better than I could have hoped for, every part even hinges & handles, were so well protected. You made the entire transaction, almost effortless on my part.
I had considered flying out to California & renting a box truck to drive the pieces home. That is how important they were to me. I was on pins & needles until they were unpacked, here, in my living room.
Thank you and if I ever have an opportunity to recommend your service, you can rest assured, I will give you an OUTSTANDING A+.
Sincerely,
Katie
Reviewed by on Jul 13, 2010
I wanted to thank you for all of your hard work in packing up a very fragile TV and thus insuring its perfect shipping to us all the way across the US. You were kind enough to talk me thru the whole process and you were 100% right. I will be using you again and will tell everyone in our condo in San Francisco to use you.
Thanks again, 
Gary and Deb
Reviewed by on Jul 13, 2010
Both shipments arrived in superb condition.  Nothing was broken or chipped.  Your packing job was outstanding.  During our 11 PCS moves within the states and overseas, we had never had a better packing job.  I simply cannot imagine how you could have done a better job.  Now all I have to do is figure out what to do with 11 30-gallon plastic bags full of peanuts….
If you ever need a testimonial from a previous customer, I would be pleased to give you a great one.  Since my mother-in-law lives in Downers, there is a good possibility that I will again call upon you to pack and ship some of her belongings.  If so, it would be a pleasure to have your company handle it.
Thanks!
Mike  
Reviewed by on Jul 13, 2010
My parcel arrived safe and sound on Tuesday as expected. Packing was excellent in all respects: first-rate materials, care and treatment. Also, any inquiries I had were always answered in a quick and friendly manner by your staff.

I am extremely satisfied with your services, and look forward to doing business with you in the future.
Reviewed by on Jun 11, 2010
So funny story. The guy from California contacted us about his piece. Keep in mind he spent over $5,000 on it, the first thing he said was how impressed he was with the packaging. Nice work!